If you are an emerging brand or start up business, selling goods to consumers then launching your product can be challenging. As a packaging supplier we know how daunting starting new packaging projects can be for clients. In writing this article we share our observations and tips on how to make that journey from concept to launch successful.
Let's start with a saying a "package must protect what it sells and sell what it protects"and there is no question, getting your packaging right on many fronts helps not only protect your product but importantly allows consumers to recognize you. Materials, shape, size, branding and special features can add visual clues to making shopping easier for the consumer to choose the right product.
Let's also consider there is fierce competition to get your product to market – not just to get placed on a retail shelf or for consumers to buy on-line, but to get the shopper to engage with your product and not the competitors. Bearing this in mind, there are several key aspects to packaging development for new businesses that can help you succeed and make the early stages of this journey easier.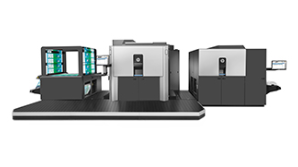 HP Indigo 20000 Digital Printing Press – No MOQ required
1. Packaging Format & Material
Firstly, it's vital to find the right packaging for the product being packed and understand the options available to you. This relates not only to the pack format such as a sachet, pouch or lidding film, but to the materials that ultimately pack and protect the product. Having suppliers help guide you at this early stage is essential and you need to ask lots of questions. The right supplier will provide informed details around materials and why they are right for your own circumstances. There are many considerations around these two points alone. Will your product be packed by hand or by machine? How is the pack sealed? Do we need to consider barriers to protect the product from light or aroma?
There are plenty of choices to purchase packaging, but whether you choose to buy plain packaging on line or printed by a manufacturer, you must know the functionality of the pack and material before you proceed.
2. Great Expectations – Selling your Packaged Food Product
Not only does packaging protect and transport your product, it's also the last and silent sales medium to access the customers you are targeting. If you want the consumers to notice you and return for more, then packaging and its development should be a high priority on an already huge task list.
Bespoke packaging is not bought off the shelf. It requires the development of artwork, material selection, product trials and often concept packaging or mock ups for approval for retailer presentation or consumer research.  With all this mind, the manufacture of printed packaging can take many weeks to deliver. So early planning and engagement with your supplier will get you ahead in your planned launch schedule and deliver on time.
3. Packaging Budget
Costs are always a challenge, but there are ways to create great packaging to meet a budget. Digital printing for example may overcome the need for Minimum Order Quantities and excess stock, as well as doing away with the need for print plates or cylinders. A flexible printed pouch may work out more cost effective than a jar or bottle with labels. It may be the right start for a new business is to use a plain pouch and labels. Maybe short run digital print would work. Every client's circumstances are different, so early collaboration will save time and cost.
4. Shelf Impact and Intelligent Design
Who designs your print, agencies or freelancers? Can they help with statutory labelling requirement's. Do they know my market, are they value for money and will the design meet my goals for the packaged product?
All these question will arise and from our perspective, your designer needs to know how you are printing. Printing presses have different requirements. Flexographic and Gravure Printing presses may range from anything from 4 colour units up to 12. Digital printing uses CMYK, Orange, Green and Violet providing 97% Pantone accuracy.
Ensuring your supplier provides detail around the construction of design is really important. One of the biggest frustrations is a new client has taken on a designer and the work looks fantastic, but the artwork is in the wrong format. Sadly, this often means clients need to make amendments which add further cost and lose time.
5. Know Your Customers
There is a wide variety of packaging concepts. They are designed to catch the eye of the consumer in the marketplace. Often they may include added features such as Zip Closures or Laser Scoring for convenience. In fact there are so many different innovations this area should be given much thought. Its not worth spending money on a feature that might not represent value or use to the consumer. Knowing what your customers want – and also what your flexible packaging supplier can do for you will help in your market research. If constricted to a smaller budget, don't be discouraged. There are always way to get creative with the right support.
6. Know Your Competition
You must always pay attention your competitors' products. Consider how they are marketing their product and using the packaging itself. Sometimes the print is used to convey key messages around the benefits of the product. Sometimes to promote an event or the brand story itself. A product launch is an event and one to be proud of. It's always worth engaging your packaging supplier early to learn how you might differentiate your product, catching consumer attention.
We have experiences daily of seeing packaging design, materials, labelling and colours used. It's good to ask those at the forefront of manufacture for their opinion. Something that is common in your market and overcrowded, might benefit from knowledge of what others are doing and succeeding with in other markets. Samples are always available and are a great way to compare different products.
7. Lead Times
Remember that lead times need to be considered into the development and ordering process. Lead times for digitally printed packaging may take 3 weeks to 4 weeks. With gravure or flexographic print the lead times might take up to 8 weeks because of the origination process. Planning your product launch is vital to meeting the deadlines you set yourself. Engaging with your supplier allows you both to work toward this timeframe and ensure materials and artwork design are on track.
Thoughts For Success
The company believes in reducing the risk for startup brands and their packaging by democratising the packaging choices they make. We demonstrate the lifespan of different pack formats from concept to delivery to filling to end of life. We can also put these packs in front of a consumer base of 30,000 UK shoppers to determine what they would prefer. This data is of huge value in retailer and buyer meetings.
Conclusion
We wrote this article as a key part of our business is to help start-ups, food innovators and emerging brands succeed.
Over the coming weeks and months we will continue this journey by providing more knowledge through interesting articles. Our forthcoming topics will include "green packaging", pack format selection, materials knowledge, design strategy and much more.